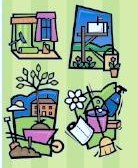 DON'T SPEND TIME CLEANING YOUR HOUSE, I CAN HELP YOU!!!
Everett , MA (Boston Area) • 01/29/2009
GI CLEANING SERVICE We serve all Boston area.7 DAYS IN A WEEK. WEEKLY/BI-MONTHLY/MONTHLY house, office & new construction We care about all details and every single corner of your house!!! We have refferences! high quality for good prices. ...

contact me at :

gipinheiro_designer@hotmail.com
or (413)222-3111




Posted by: GI P.
Located: Everett , MA
(No map found for this address)